OhioLINK Posts
Collaboration, innovation and creative design are a few ways OhioLINK and member libraries inspire students, staff, faculty and researchers to develop new art, music and mechanical contraptions. Recently, an installation of musical stairs, an impressive example of collaboration, was on display at Otterbein University's Courtright Memorial Library.
In order to contribute to our never-ending quest for a great user experience, I recently attended and presented at Designing for Digital, a conference specifically for those working on user experience issues in libraries. For me, this conference was not only an opportunity to present the work we're doing at OhioLINK, but also a chance to learn from others engaged in similar efforts.
April kicks off the electronic theses and dissertations (ETD) submission season. Submitting an ETD is one of the last requirements for many Ohio students before their Masters or Ph.D. graduation. It is at this point that the students begin to log on to the OhioLINK ETD Center, some sign up for a research ORCID identifier, and submit their ETD to be reviewed and published. While this sounds simple, there is a lot of work that goes into the submission and review process.
Job-hunting is daunting for everyone, but it can be especially burdensome for veterans transitioning to civilian life. Fortunately, Ohio's academic libraries and institutions have made significant strides to make this process an easier one for military service members. This includes access to job-searching resources, continuing education materials and professional consulting services. Many university and local libraries have programs specifically tailored to veterans.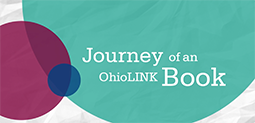 OhioLINK libraries make obtaining a book from a member academic library an incredibly easy, smooth process. Do you know how? Take a look inside the "Journey of an OhioLINK Book" as we detail the entire trip. 
OhioLINK Recommendations

"An academic library tackles Google Glass lending; will be interesting to see feedback results"

"Wow! Right here in C'bus city ..."