OH-TECH Branding Guidelines [PDF]
 
In 2011 the Ohio Board of Regents brought under the umbrella of a single consortium several statewide technology-focused organizations: the Ohio Academic Resources Network (OARnet), Ohio Supercomputer Center (OSC), Ohio Library and Information Network (OhioLINK), Ohio Learning Network (now part of eStudent Services), and the recently announced Research & Innovation Center.  This allows the Chancellor to leverage existing strengths from each organization and trim costs, duplication and inefficiency.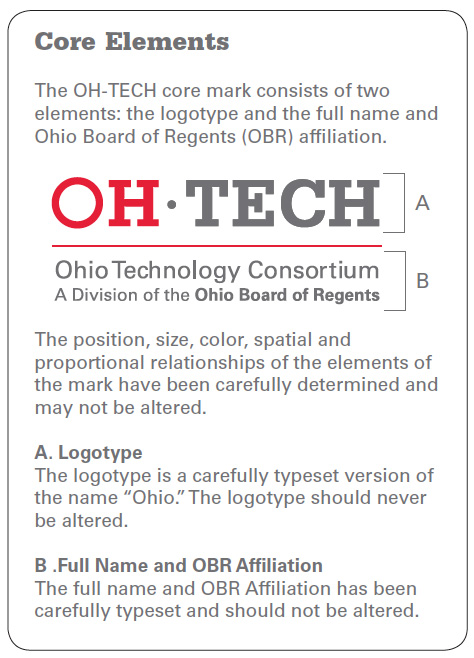 While these supporting organizations will continue their distinct missions, their branding is being unified to promote the efficiency and cohesiveness of these highly regarded organizations. 

The OH-TECH brand is the primary means of visual identification for OH-TECH, is based on the State of Ohio's branding guidelines and is consistent with Ohio Board of Regents branding. Each supporting organization will have a unique brand that shares a color scheme and style similar to the OH-TECH brand and, at the same time, possesses a visual tie to the history and strength of the individual organization.
Put simply, an organization's identity is one of its most valuable assets.
With proper usage, these standards ensure that the OH-TECH identity is consistently and effectively applied so that all visual communications reinforce and convey a uniform image.
By using and adhering to the standards in the
OH-TECH Branding Standards guide
, OH-TECH can maintain the integrity of its organizational identity. These standards have been modified and adapted from similar graphic standard guides used frequently in marketing activities.
OH-TECH Usage
The term OH-TECH is to be used in all caps wherever represented in print. In first usage it should be referenced as "OH-TECH, the Ohio Technology Consortium", and all following usage as "OH-TECH". 
OH-TECH Core Mark Variations
The OH-TECH core mark is available for use in two variations. 
 
A. The Horizontal Mark
B. The Vertical Mark
If you have any questions or require additional branding support, please contact:
Jamie Abel
Communications Director 
Ohio Technology Consortium (OH-TECH)
A Division of the Ohio Board of Regents